Space Weather
The following information and links may be of interest to some Amateurs.
The Dominion Radio Astrophysical Observatory (DRAO)
collects the Solar Flux data supplied to NOAA. DRAO is also the home of the CHIME radio telescope.
Click here for a link to Space Weather.com.
Click here for 27-day Space Weather Solar Flux Outlook Table.
Click here for the Solar Cycle Progression from NOAA.
Click here for AMSAT Satellite Pass Predictions.

Space Weather Continued...
| | |
| --- | --- |
| VHF Aurora: | |
| 144 MHz Es in EU: | |
| 70 MHz Es in EU: | |
| 50 MHz Es in EU: | |
| 144 MHz Es in NA: | |

Latest Sunspot Image from SOHO

K Index and Ovation Aurora Model
Here is a link to the Space Weather Prediction Center.

Space Weather Services - Hourly Area Prediction
Below is an HF predicted propagation plot for the Seattle area. For other areas, click on this link. Colors indicate the recommended frequencies.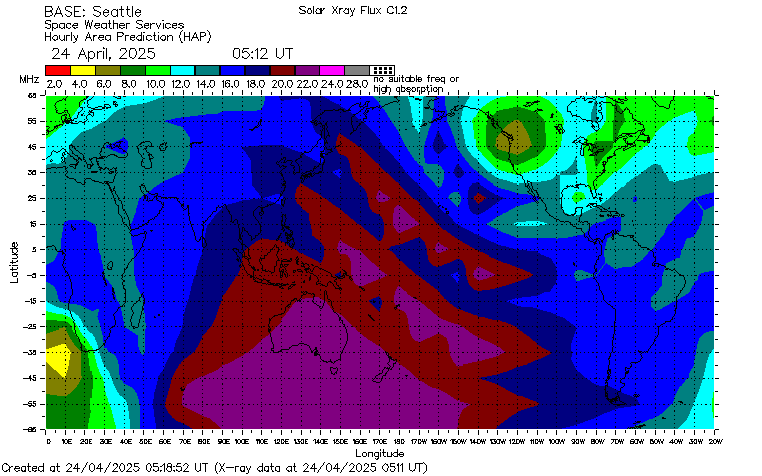 Credit HF Propagation.com

Current Sun View of Earth
This view does not update automatically. Click on browser refresh to update. Credit the www.fourmilab.ch website.